Founder discusses recent Hall of Fame recognition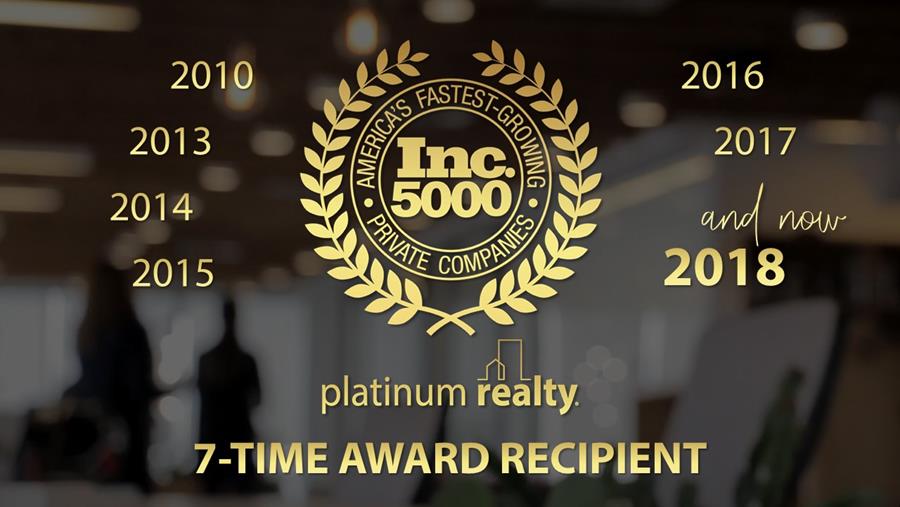 A Message from Founder and CEO, Scott DeNeve
Hello,
Today I'm excited to share with you that for the seventh time, Platinum Realty has been named on the Inc. 5000 list of fastest-growing companies in the country. As a 7-time honoree, Platinum Realty earns Hall of Fame accolades and becomes part of a select group of companies to achieve the distinguishment. In fact, less than 175 companies in the nation have achieved this type of repeat performance. 
Making the list once could be luck, but sustaining an achievement like this is a testament to experienced agents who are demanding more value out of their real estate company in an evolving industry.
We're equally excited to announce having reached a significant milestone of becoming home to over 1,500 agents across the Midwest. More than a real estate company, Platinum Realty's mission is focused on providing lifestyle opportunities for experienced agents through technology, culture, education and a 100% commission structure. While our progressive business model is attractive to experienced agents, we know this type of continuous success would not be possible without our agents' passion, hard work and commitment to our company. 
If you've considered learning more about Platinum Realty but thought it's 'too good to be true', I encourage you to take another look. Ask yourself if over 1,500 agents and seven years of nationally recognized growth is luck or just smart business. 
Sincerely,